With the Airport Pricing Calculator (APC) and Leon Charter Sales Module subscription combined, you can enable quick, accurate and reliable access to the most up-to-date Airport and Ground Handling charges available within your Leon FMS platform.

Once your APC subscription is activated, APC automatically starts enriching the estimates you see in the Leon Sales module. 


Where we do have coverage, APC zeroes out existing fixed cost estimates and replaces them with data curated by us. 

Where we do not have coverage, APC leaves your usual fixed cost estimates in place.

APC's data:
In-house aircraft engine database that covers all certified Business Aviation types and goes down to aircraft variant level, to ensure highly accurate modelling of noise and emission charges

Data covers out of hours, night, holiday and additional surcharges, RFFS upgrade where applicable, and we even take into consideration operational limits

As some of our handling pricing is restricted in nature, if you do not have the time to ask the Ground Handler for access, we give you an indicative price. This indicative price is an averaged lump sum of ballpark expectation without revealing additional details in order to respect our Ground Handling partners' privacy

If there is an agreed rate of service between you and a Ground Handler, e.g. a discount, we can adjust pricing served back to you accordingly in these cases

APC's coverage:


Currently focused on Europe, North Africa and the Middle East

Coverage expansion is based on operator demand and interest, and we are working tirelessly to improve it

Updates are processed on a rolling basis, as soon as we get our hands on new data, it is pushed live as soon as possible

Ground Handling pricing is a challenge to acquire, we are building new relationships each day and will continue to do so step by step. We are especially grateful for introductions from our operator clients, these open doors and build trust faster, which at large benefits our whole network

APC was designed for use via integration from the get go. The core idea is that APC quietly sits in the background, providing automatic enrichment of charter flight quotes where possible, protecting you from under and over quoting. It only takes a few "saves" for APC to earn back its subscription cost and more!
See below an anonymised screenshot that is coming from a live LEON based operator's APC dashboard, showing the actual impact of APC on quotes that subsequently converted to bookings. For this operator, over a 3-day period, APC paid for itself for the next 2+ years!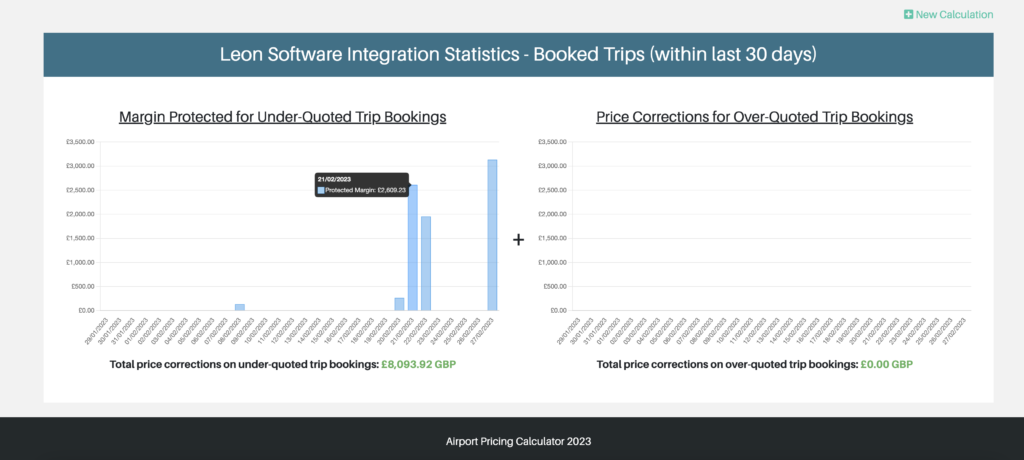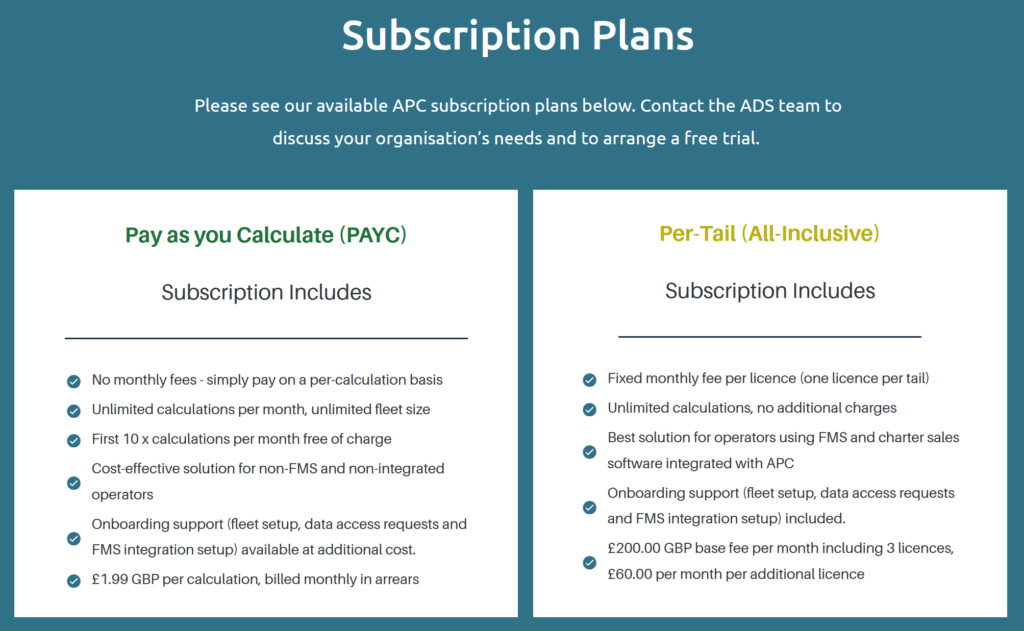 How can I get started?
The APC sign-up process starts with guided onboarding, the process for which is broadly as follows:
Let us know you are interested in our services: contact@aviationdata.aero

Our Customer and Sales team will be in touch to inquire further and to request a:

Fleet details 

List of preferred handling brands

Most frequented airports

Handling brands where special agreements are in place (e.g. discounts)

Onboarding call

Free-trial period (duration decided case by case)

Continuous support and follow-up as needed

 
It's as simple and easy as that. We've onboarded clients and trained them on our system in little over an hour,  at the end of which APC is already actively enriching charter flight RFQs that are received in the Leon Sales module.

In summary
Our partnership with Leon Software is a significant milestone. APC was designed for integrated use, to sit as a quiet sentinel in the background protecting your margins and facilitating the likelihood of successful bookings. Our coverage is work in progress, but it can take as little as one save a month for APC to earn back its subscription cost many times over.
Next steps
contact@aviationdata.aero
Operators :
Not an operator or broker? Not a user of Lean Charter Sales?
Ground Handlers:
If you are reading this, we are inviting you to join our free HPM network. Please indicate your interest, we look forward to hearing from you!